December 2018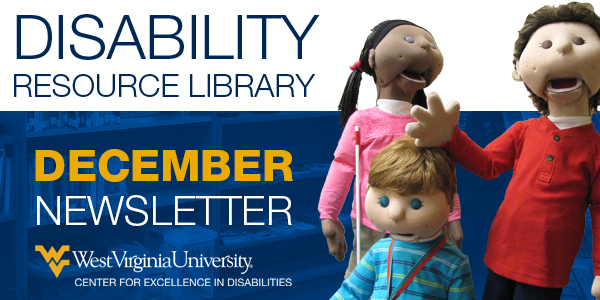 This month's Disability Resource Library newsletter focuses on Traumatic Brain Injury (TBI). In this issue you will be introduced to resource materials specifically developed for individuals with Traumatic Brain Injury (TBI), family members, caregivers, and providers.
The Traumatic Brain Injury (TBI) Program at the WVU Center for Excellence in Disabilities is the state's designated lead agency for the coordination of services for West Virginians with TBI. The TBI Program is a collaboration between the state funded Traumatic Brain Injury Services and the federally funded Traumatic Brain Injury Implementation Partnership Grant. TBI is defined as a blow or jolt to the head or a penetrating head injury that disrupts the brain's function.
West Virginia's 3rd Annual TBI Conference will be held March 6-8, 2019 at the Resort at Glade Springs. This year's theme is "From Surviving to Thriving: Growth After a TBI."
Big Boss Brain
By Shannon Maxwell. Illustrated by Liza Biggers
Big Boss Brain is an unprecedented look into the often invisible effects of traumatic brain injury (TBI) through the eyes of a child. Main character, Cassidy, guides readers on a journey of discovery to learn and answer questions about the physical, cognitive, and emotional/behavioral changes in a loved one following a TBI. Characterized images of Big Boss Brain further reinforce understanding of the brain's function, control, and damage in a manner kids can easily understand. The story captures the reader's attention and imagination, allowing them to believe in the possibilities of life together after traumatic injury.
The Mild Traumatic Brain Injury Workbook
By Douglas J. Mason, PSYD
A blow to the head or the dramatic acceleration and deceleration that occur in a serious car crash can cause a traumatic injury to the brain. At their most serious, these events are critical and life threatening, but even a mild incident can cause problems with memory, communication, and mental focus. What's worse, this kind of cognitive function loss often causes other psychological symptoms like depression and low self-esteem. Fortunately, there are things anyone can do to recover from a mild traumatic brain injury, get back lost cognitive ability, and restore a healthy frame of mind.
Check out The Mild Traumatic Brain Injury Workbook
Turn the Lights On!
By Dr. Chrisanne Gordon, MD and Andrew Miller
A a physician shares her personal journey with TBI after suffering a life changing accident. In this touching and informative book, Dr. Chrisanne Gordon chronicles her struggles, the high points as well as the lows, as she is challenged to make sense of what happened and realizes that her medical training did not prepare her for these struggles. With intimate detail she explains what it is like to have TBI, how it affected her life, and what was needed for healing and recovery.
Traumatic Brain Injury: Rehabilitation for Everyday Adaptive Living
By Jennie Ponsford, Sue Sloan, and Pamela Snow
Research into the rehabilitation of individuals following Traumatic Brain Injury (TBI) in the past 15 years has resulted in greater understanding of the condition. Its uniquely clinical focus provides both comprehensive background information, and practical strategies for dealing with common problems with thinking, memory, communication, behavior and emotional adjustment in both adults and children. The book addresses a wide range of challenges, from those which begin with impairment of consciousness, to those occurring for many years after injury, and presents strategies for maximizing participation in all aspects of community life.
Traumatic Brain Injury: Rehabilitation for Everyday Adaptive Living
Tobii PCEYE Go
The Tobii PCEYE Go is a peripheral eye tracker that enhances computer accessibility with the speech, power, and accuracy of gaze interaction. The device replaces the standard mouse, allowing you to navigate and control a desktop or laptop computer using only your eyes. It runs on standard Windows computers and tablets, allowing you to work with any application that is normally controlled by a standard computer mouse or through touch. Works with Windows 8 or below.
Through our partnership with WVATS, devices such as this are also available on the same library loan site.
Navigation Tips - Parent/Teacher Teamwork
It is important that parents, teachers and students work together as a team. Here are a few suggestions to help parents become an active member of the team and set up a successful school year for their school-age child.
Pay close attention to weekly folders and communications that come from school
Read frequently with your child and encourage nonfiction as well as fiction
Review their homework to ensure that it's complete and correct
Talk to school personnel if you need additional resources or if you think your child needs more help
Visit the WV Department of Education website to learn more about the things your child is learning this school year. (Content Standards & Objectives – CSO)
A Child's Champion
Meet Sara Miller, MPH, TBI Coordinator, WVU Center for Excellence in Disabilities. Sara believes that being a parent is the hardest, yet most rewarding job she could ever have. In her role at the CED, she educates children and families on the brain and concussion. "Small children are my favorite to educate, their minds are full of wonder and curiosity," she said. "Working at the CED with individuals with traumatic brain injury and their families has given me the opportunity to put my education and interests to work to improve the lives of West Virginia families and meet some wonderful people along the way," Sara added. Sara recently passed her Master Certified Health Education Specialist exam. We are pleased to name Sara Miller as December's Child's Champion.